We think of our loved ones who have served in the military on the 11th of November, but you can Honor Veterans without leaving home any day of the year.  Since we're all trying to stay safe from COVID-19, I'm listing those things that can be done without leaving your house.
For those who find the differences between Memorial Day and Veteran's Day, Ancestral Findings has a good synopsis of the History of Veterans' Day
ScrapBooking
Scrapbooking allows you to put together messages of appreciation along with photos and memorabilia in order to honor veterans in your life.  Whether you do it with paper or use a digital layout, these projects quickly become "keepers."
An example that I really liked is "My Dad My Hero" at ACherryOnTop.com.  Notice how the handwritten portion really brings the layout together.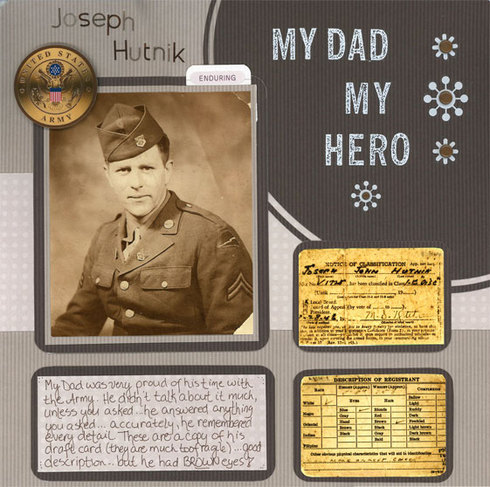 If you're not into scrapbooking, you can do something as simple as placing two photos in a photo frame as a now and then memory.
Pro tip: If you're looking for digital layouts and embellishments online, add [-Pinterest] to the end of your search terms.  This will allow you to narrow your results to the vendors. I've found that ScrapGirls.com has a good, affordable selection of military themed products. Forever.com has packets that include embellishments for Canadian forces.
Honor Veterans by Sharing a Story
If you Google the phrase above, you get tons of results from funeral homes and grief counseling.  As valuable as memorializing loved ones can be during times of loss, don't wait.  Those shared stories can bring families closer together and springboard conversations.
Sharing your veteran's stories via social media can help spread the love and positivity.  You can also add a bit of historical education as you do so.
Related Idea: Share some family heirlooms of military memorabilia on social media or your blog. People love these types of posts.
Call a veteran and ask how they're doing.
Enough said. When you invest time in a loved one, you honor them.
Honor a veteran by documenting their oral history.
Many of our veterans have viewed history in ways civilians haven't. What's your veteran's story?  You can easily accomplish an oral history interview via telephone, Skype, or Zoom.  You can read how this is therapeutic in Sharing Military Memories Can Heal.
If you need some tips to get started, check out How to Start an Oral History Tradition.
Research something about your veteran
You can honor veterans by researching their military history.
The genealogical research sites are great for this. Some great places to start:
FindMyPast.com All Findmypast military records are completely FREE from November 5-12 and they've just release a new collection of iconic wartime photos.
Fold3.com I can't find any Veteran's day special for Fold3, but they have awesome military record collections.
Ancestry.com has military records from the Revolutionary War to the Vietnam war.
FamilySearch.org is always free. To get started finding military records, refer to their blog post Discover the Military Records of Your Family's War Veterans.
You can also explore the context of a military record. Learn more about the conflicts during which they served, the geography and culture of the places they were deployed to, or what their job entailed.
For example, today I found a record on Ancestry.com showing my grandpa in the U.S., Army Transport Service, Passenger Lists, 1910-1939.  Today, I'm going to explore more about what was going on on May 17, 1919 in Brest, France as well as more about his division and the USS Zepplin.
Honor Veterans by Supporting a Non-profit that helps Them.
Unfortunately, many American vets struggle.  Financially supporting an organization that supports them is a great Veteran's Day activity.
In the USA, the Department of Defense has a listing of organizations at https://www.defense.gov/Resources/Veteran-Support-Organizations/. For example a partnership between the Department of Veterans Affairs and the nonprofit Help Heal Veterans who've tested positive for COVID-19 can get a free quarantine kit.
Create an online memorial.
If your veteran is deceased, you can create an online memorial for them on Find-a-Grave.com or on Fold3.com
If you're not sure where your relative or ancestor is buried, you can use the Department of Veterans Affairs' National Cemetery Administration's National Gravesite Locator.
Your Turn
Do you have an idea for honoring veterans without leaving home?  Please share your thoughts and ideas in the comment section below.
Photo Credit Top Graphic:  Air Force Tech. Sgt. Ryan Campbell, Air National Guard